BRING YOUR ID:
AN UPDATE OF ANTI-MONEY LAUNDERING MEASURES IN THE ART MARKET

Speak the truth. Transparency breeds legitimacy.
John C. Maxwell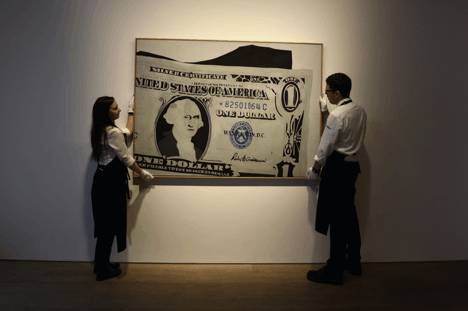 Andy Warhol's signed dollar bill ahead of auction at Sotheby's. Credit of Sotheby's and Mary Turner.
For decades, privacy has been the art market's bread-and-butter for many transactions. Whether we are talking in terms of pricing, commissions, provenance, final buyer, or intermediaries, the art market participants are lamentably used to conduct business without fully disclosing the identities and conditions. Hidden under the term of "confidentiality" these actions are illegal and can lead to money laundering and illicit trafficking. Although the recent introduction of blockchain keeps striving for digital art authentication and provenance, there are still some years to come to find out if this technology will be effective. However, multiple legislations around the globe have been set in placed to eliminate this idiosyncrasy.
With the rise of terrorism and global organized crime, most countries have settled in place fundamental requirements to identify customers and detect and report any suspicious activity to the pertinent authority. Tighter measures were introduced in 2018 with the Customer Due Diligence Requirements for Financial Institutions implemented by The House Financial Services Committee to comply with the Financial Crimes Enforcement Network's (FinCEN), which is part of the U.S. Treasury, along with the Securities and Exchange Commission (S.E.C.) and FINRA, under the Bank Secrecy Act in the U.S.A. On the same year, the European art market was also escorted by the Fifth Anti-Money Laundering Directive (5AMLD). Both programs required the implementation of active customer due diligence and monitoring programs which include the verification of identities, source of funds and methods of payment.[1]
Now, almost two years later, the Money Laundering and Terrorist Financing Amendment came into force in the United Kingdom, following the E.U.'s 5AMLD.[2] These new regulations expand the scope of the existing Money Laundering, Terrorist Financing and Transfer of Funds Regulations of 2017 by requiring to establish the identity of the "ultimate beneficial owner" before entering into a transaction. Furthermore, the British Art Market Federation published a 112-page guidance approved by H.M. Treasury in 2020.[3]
Other legislative attempts to safeguard the art sector include the U.S.A.'s Coordinating Oversight, Upgrading and Innovating technology, and Examiner Reform Act, which if passed, could considerably improve the art sector.[4]  In addition to the Corporate Transparency Act of 2019 currently under review by the American Senate[5], it appears that the art trade will only continue to move towards stricter measures to fight money laundering.
The high degree of complexity in closing a delicate transaction can be overwhelming for the already multitalented art market players. It is already a key challenge for the industry to continue the operation without collectors or intermediaries being put off or overly burdened by the AML checks. However, compliance is more than avoiding a criminal offence, and should be seen as an opportunity to safeguard transactions and boost confidence among clients; to protect your own business from risk and to improve the general image of the market. Applied properly, these rules should create transparency while ensuring client confidentiality – the trickiest balancing act for art market professionals.
---
[1] Artemundi, as an early adopter of AML procedures and strict KYC compliance, we prepared a special article about this topic available in https://www.artemundi.com/new-money-laundering-regulations/
[2] Tajani, A. "Directive (EU) 2018/843 of the European Parliament and of the Council ." Lex Access to European Union Law, Eur-Lex, 30 May 2018.https://eur-lex.europa.eu/legal-content/EN/TXT/?uri=CELEX%3A32018L0843
[3]Valentin, Pierre. "Anti-Money Laundering – What Has Changed." Art Law, 15 May 2020, www.artatlaw.com/latest-articles/anti-money-laundering-what-has-changed.
[4] Odedra, Dev. "Art: In the Frame for Money Laundering." KYC360, Riskscreen, 27 Apr. 2020, www.riskscreen.com/kyc360/news/art-in-the-frame-for-money-laundering/.
[5] Maloney, Carolyn B. "H.R.2513 – 116th Congress (2019-2020): Corporate Transparency Act of 2019." Congress.gov, 23 Oct. 2019, www.congress.gov/bill/116th-congress/house-bill/2513