Donald Judd: Thoughts on space in these times of physical restriction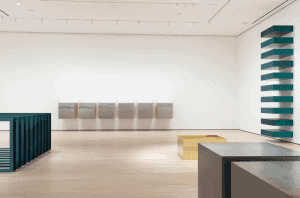 Yes, "beauty won't save us from coronavirus[1]". But art has never been created as a method of salvation. It has always been a catalyst for change and self-examination. Far from being a palliative, art has the power to question ourselves and ease the pain once we realize how far we have become.
However, art critic Kenneth Baker suggests that Donald Judd's artworks require to be viewed through a relaxed prism and they may be too much for a post-pandemic world. Baker states that Judd's body of work requires a 'bored' or even 'relaxed eye' to truly enjoy it.[2]
Nevertheless, his statement cannot be farther from reality, since Judd's artworks are far from being easy-to-digest artworks. What his work lacks in immediate expressiveness finds a counterpoint in its conceptual rigor. With a strong background in philosophy, Judd emptied his work for the world to make anything out of it.[3] Fascinated with space, Judd shocked a post-war nation by emptying his objects of art history and demanding the vacuum of form to be filled again with content. This act led him to theorize on the questions that needed to be examined.
The motive to change is always some uneasiness. Nothing setting us upon the change of state, or upon any new action, but some uneasiness. [4]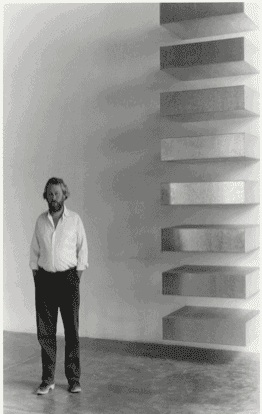 Judd proposed a new cachet and a new disjunction between 'real space' and 'real objects' situated in it in the 1960s, seen distinctly when he moved away from traditional painting and began his discovery of space.
Today, these words resonate deeply, as not only does it echo in the art history, but also in our present society. Judd's works, on their own, are about spare forms and recombination, clearing out space for viewers to project their own thoughts. But more than that, Judd embraced an unyielding adherence to a unique creative vision.
After 12 years in the making, the MoMA and the 5 other art institutions that have now temporarily closed their overlapping retrospectives of the artist cannot be wrong on finding Judd more relevant than ever. We deeply hope that once we recover from the current situation, these institutions open once again their doors and reschedule their program to provide further weeks of enjoyment for these interrupted Judd exhibitions.
Aside from the financial benefits that art withholds as a tangible asset –whose value is capable to resist even the strongest economic depression–, Judd's artworks are aimed to open the imagination and creativity in each of us. Unless you are one of the few lucky ones who actually own a piece by Judd at their own home, the American artist provided us an empty canvas to deliberate on new ideas for adapting, to examine our physical presence in space (even if it is a secluded space configuration at your home) and philosophize on our human existence (now on an online format).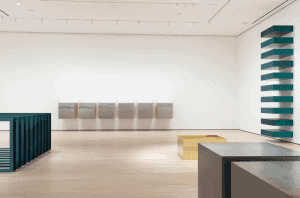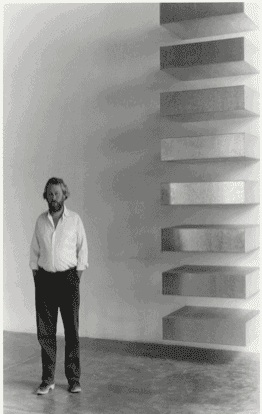 [1] Cocks, Anna Somers. "Letter from Italy: the Churches-Open, but without Services-Are the Only Place to See Art." The Art Newspaper, The Art Newspaper, 23 Mar. 2020, www.theartnewspaper.com/comment/letter-from-italy-beauty-won-t-save-us?utm_source=The+Art+Newspaper+Newsletters&utm_campaign=e302127498-.
[2] Baker, Kenneth. "Will Covid-19 Anxiety Colour Our Perceptions of MoMA's Donald Judd Show?" The Art Newspaper, The Art Newspaper, 18 Mar. 2020, www.theartnewspaper.com/review/will-covid-19-anxiety-colour-our-perceptions-of-moma-s-donald-judd-show?utm_source=The+Art+Newspaper+Newsletters&utm_campaign=ddae62ce27-EMAIL_CAMPAIGN_2020_03_17_02_28&utm_medium=email&utm_term=0_c459f924d0-ddae62ce27-60870017.
[3] Saltz, Jerry. "Donald Judd's Minimalist Legacy Is All Around Us." Vulture, Vulture, 19 Feb. 2020, www.vulture.com/2020/02/donald-judd-retrospective-moma.html.
[4] Judd, "Specific Objects" This quotation is from John Locke, An Essay Concerning Human Understanding ,vol. I, II.xxi.29.